By Nigel Hilton
There's a serious skills gap in the country right now. While unemployment figures are low at the moment, when you look at graduate unemployment it's a different story – it's at an all-time high for people leaving college. Why? Well, the simple truth is that few graduates end up even working in their field of study, and they just don't have the experience to work in any other areas. Plus, of course, they owe a huge amount of money to student loans, credit cards, and other debts that have supported them through college life.
But imagine if they didn't go to college. Imagine instead that they took an apprenticeship with a local trades company, as a trainee electrician, bricklayer, or plumber. Or what if they just took a six-month course in their trade of choice? Sure, there is still a cost involved, but it's way less than a college degree in a subject that might not give you a job on completion. Where would they be right now?
They wouldn't have the huge levels of debt, that's for sure. And the chances are that within a couple of years they will have qualified as a professional, be earning some great money, and maybe even have their own businesses. The university student, however, still has another two years of debt to build up, and no guarantee of a job.
Trades are well paid, too. When demand outstrips supply, you are always guaranteed work, wherever you are in the country. Your prospects are fantastic, and you can either specialize in different types of work, set up your own company, or even take your skills with you while you travel the world. With all this in mind, let's take a look at some of the things you need to consider if you want to make it with a trade.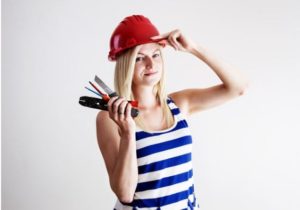 Finding an apprenticeship
Your best entry into a trade is finding a company or sole trader who is looking to take on an apprentice. While your wages will be low, you may find that the business is willing to pay for your training. When you get your certification, your employer will expect you to return some service to them – usually two or three years. But there is a big advantage – it's a perfect environment for you to improve your skills, get more on-the-job experience, and learn about the business side of being in a trade.
Taking courses
There are a few routes into most trades. You can either do courses in your spare time – even online – or go to a trades college, which typically costs anything up to $30,000, depending on the trade you choose. Sure, it's a lot of money, but when you bear in mind a standard university degree can cost well over $100,000, it's not a terrible investment – and you'll be earning money as soon as you qualify. You'll also need to get a license to practice your trade of choice in the state you work in.
Tooling up
As a tradesperson, there are two vital things you will need to invest in: tools, and a vehicle. Neither should be skimped on, as the tools of your trade will keep you working fast and accurately, and your van or truck will help you get to jobs and stay organized. In fact, your vehicles are far more important than you might think. An electrician is on the go constantly, and it's crucial that he has all his equipment with him at all times. Check out http://www.tallermovil.org/equipamientos-furgonetas/productos-infinity/ for some examples of how to best organize your van.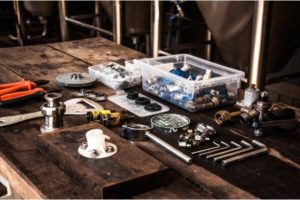 Going it alone or working for a company
The beauty of having a trade is that if you are good enough, you will find work with a whole bunch of companies. You might join a trade-specific firm, or work for a general building company ads their trade specialists. Depending on the quality of the business you work for, your job should be safe, and it will give you a regular income and training opportunities. If you are willing to work for yourself, however, the rewards can be even greater. You can work as a contractor for a broad range of building businesses, as well as offering private services to homeowners and businesses alike.
Growing your trades business
Of course, there are only so many hours in the day that you can work, and your trade will have an hourly rate attached to it. So, while you can make an excellent living, there will be limits on your income. If you want to make seriously good money, you will need to consider starting a business and employing people. It's an entirely different kettle of fish to working alone, and the more you grow, the less you will be able to rely on your trade. Ultimately, you will start to become more of a manager, running the business from an office, visiting customers to provide them with quotes, and ensuring everyone is working in a safe environment at all times.
Following the money
Some trades pay better than others. For example, if you want to earn big money, doing a trade in a hazardous environment will pay out big time. Instead of welding for a living, try welding underwater. Working on an oil rig with your specialty is another way to boost your income. If you are an electrician, then looking for a job in powerhouses or substations is better paid than domestic labor. There is an element of danger money to all of this, of course, but the point is if you can find a niche you will become hot property for anyone that needs to use your service.
Conclusion
So, do you think you have what it takes to be a successful blue collar worker or a business owner? The trades used to get a bad rep in years gone by, as it was often seen as 'worse' than an office job. But good tradespeople are creative, smart, and inventive problem solvers – which is why they enjoy a level of income that most office workers would love.